Suzanne Somers says she was an 'example' when she was fired from 'Three's Company' after requesting raise
The actress starred in the sitcom for five seasons
Suzanne Somers is opening up about one of her career-defining moments.
BY SUSAN G. KOMEN ®Help end breast cancerEvery 12 minutes, a woman in the U.S. dies from breast cancer. Join our Fight. Save LivesSee more
The 74-year-old actress spoke to "Entertainment Tonight" recently and reflected on being fired from the iconic 1977-1984 sitcom "Three's Company" when she asked for a raise.
The incident occurred after Somers had appeared in the first five seasons of the show as Chrissy Snow and when it came time to renegotiate her contract, she asked for a raise that would earn her an amount equal to her male co-star, John Ritter.
Execs, however, were not interested and chose not to re-up the agreement.
"So, we went in to renegotiate for year six because we had to, my contract was up," she recalled. "And they fired me. They fired me for asking to be paid commensurate with the men."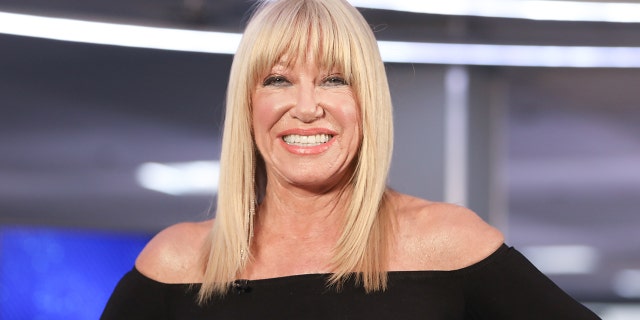 Suzanne Somers says she was fired from 'Three's Company' because she asked for a pay raise. (Getty Images)
She added: "They need you as the example so no other woman in television will get uppity and think that they could ask for parity with men."
Despite losing her Golden Globe-nominated role, the star eventually found solace in her firing.
"Because I sat in my living room, like 'Why, why did I do this, why?' I had the greatest gig in television, this character that people loved," Somers remembered. "And I heard a voice. And the voice in my head said, 'Why are you focused on what you don't have? Why don't you focus on what you do have?' And I sat there and I thought, 'What do I have?' And then I realized, 'Wow, I have enormous visibility. Everybody in this country knows my name.'"
CHARLIE BROWN HOLIDAY SPECIALS TO AIR ON TV AFTER ALL FOLLOWING APPLE, PBS DEAL
Season five of "Three's Company" ended in 1981, but the show's everlasting popularity has followed her to this day, even across the globe.
"I was just in Israel and I had a private meeting with [Prime Minister of Israel] Benjamin Netanyahu and he comes up to me and goes, 'I know about the books but I've been watching you for 25 years,'" she said. "I said, 'You have?' He said, 'Yeah, for the longest time in Israel we had one television station and one sitcom.' So, the power of television is immense and it's global. So that's how this journey began."
Unfortunately, her departure left a mark on the show in that its star, Ritter, was hurt by the casting change.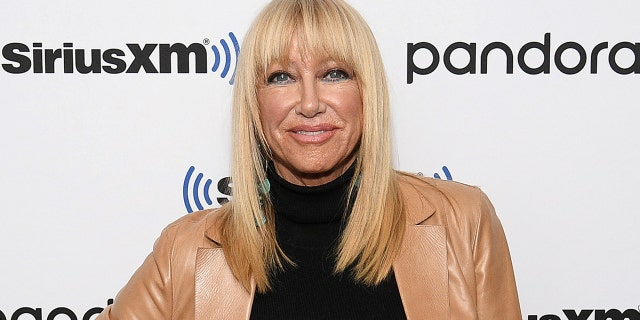 Suzanne Somers also found success as the spokesperson for ThighMaster. (Getty Images)
"… The chemistry between Chrissy Snow and [Ritter's character] Jack Tripper was magical and I think after I was fired, I think he irrationally got mad at me because he lost his sparring partner," the actress revealed. "I would be mad too and there was no going back. It wasn't up to me, it was up to the egos of the producers …"
She then compared herself to a "sacrificial lamb."
"It worked ultimately in my favor," she reflected. "That was my lesson — when one door closes, you know, crawl through the window."
MICHAEL J. FOX REFLECTS ON SITTING NEXT TO PRINCESS DIANA AT 'BACK TO THE FUTURE' PREMIERE
Somers said that leaving the show's cast and crew was "like being shunned from your family," made even worse by the fact that producers "painted [her] as greedy."
"They painted me as she's trying to ruin the show, and so the whole show — cast and crew — shunned me," the star admitted. "So, I never talked to anybody on that show ever again. Ever again."
Ritter, however, was an exception, as before his death, he called Somers and said "I forgive you." The actress said she exercised "maturity" and thanked him. (Ritter died in 2003 at age 54.)
"He said, 'You know, I'm doing a show, '8 Simple Rules,' and we've got this dream sequence and I have this nightmare, and in the nightmare, you and Joyce [DeWitt] are in the nightmare. So I was kind of silent," she remembered of the phone conversation. "I said, 'You know, the public has such a craving for you and I to be together again. I don't think my coming back as a nightmare is the best thing that we can do.' I said, 'Why don't we look for a proper project for the two of us?' and so we decided to do that. Let's find a show for the two of us and then a month later he died."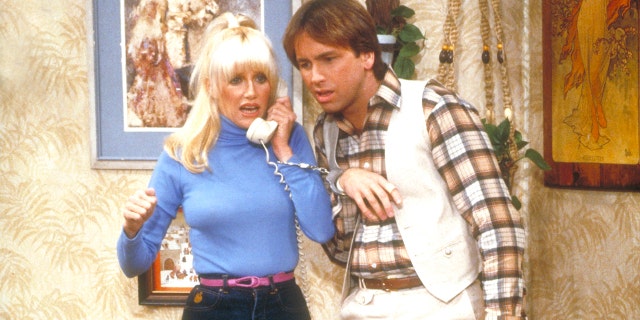 Suzanne Somers and John Ritter in an episode of "Three's Company." (Getty Images)
Although she was happy to find "resolution and peace," Somers considers herself blessed not to be "just another actress going from sitcom to sitcom."
CLICK HERE TO GET THE FOX NEWS APP
"… The life I created, I owned. It was my business and the direction I wanted to go, and [husband] Alan and I heard of the Home Shopping Network," Somers recalled. "He said, 'You should go on Home Shopping.' I said, 'Oh god, I was on primetime, are you kidding?' He said, 'I think it'd really do well here.'"
One of Somers' claims to fame is working as the spokeswoman for ThighMaster, which sold extremely well in the 1990s.
"The audience trusted me and maybe it's because of the purity of Chrissy Snow," she said. "And I think Chrissy Snow was essential for me to use as my launch pad."