Queen Elizabeth II, Prince Philip celebrate 73rd anniversary with special card from great-grandchildren
The two married in 1947, just years before the coronation
Queen Elizabeth II and her husband Prince Philip have hit a major milestone.
The two are celebrating their 73rd anniversary across the pond in the UK.
The royal pair originally married on Nov. 20, 1947 at Westminster Abbey in London. The ceremony was broadcast on television.
To mark their special day, Elizabeth, 94, and Philip, 99, shared an image of themselves opening a large card from three of their royal great-grandchildren.
QUEEN ELIZABETH, 94, WILL 'NEVER ABDICATE' DESPITE RETIREMENT RUMORS, SOURCES SAY: IT IS 'NOT IN HER DNA'
The touching gift came from the children of Prince William and Kate Middleton: George, 7, Charlotte, 5, and Louis, 2.
The number 73 is clearly visible in bright colors on the card, as the Queen and her husband take it in from Windsor Castle, where they are self-isolating amid the country's national lockdown to fight the spread of coronavirus.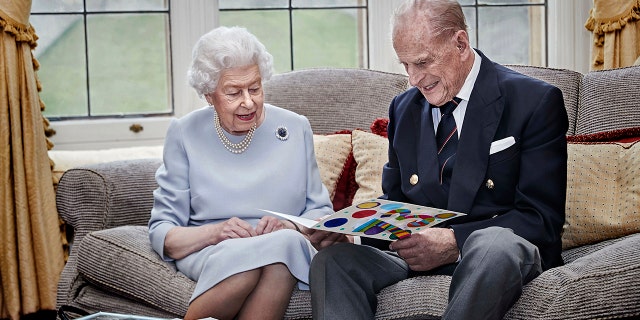 In this image released on Thursday Nov. 19, 2020, Britain's Queen Elizabeth II and Prince Philip, Duke of Edinburgh look at a homemade wedding anniversary card, given to them by their great-grandchildren Prince George, Princess Charlotte and Prince Louis, as the royal couple sit in the Oak Room at Windsor Castle, England, Nov. 17, 2020, ahead of their 73rd wedding anniversary. (Chris Jackson/Pool via AP)
Elizabeth was 21 when she and her now-husband wed and was made queen just a few years later in 1952 after the premature death of her father.
She is now the longest-ruling British monarch, and her marriage is also the longest of any British sovereign.
KATE MIDDLETON HAS RECEIVED QUEEN ELIZABETH, PRINCE PHILIP'S APPROVAL FOR THIS REASON, ROYAL EXPERT CLAIMS
While Philip has retired from public service after decades as the Duke of Edinburgh, the Queen keeps herself busy with royal duties.
In fact, the monarch will "never abdicate" the throne, royal expert Katie Nicholl told Vanity Fair, saying "it is simply not in her DNA to abandon her people or duty."
Rumors have been spreading that the British royal was planning to step down next year. Her eldest son Prince Charles, 72, is next in line to the throne, followed by his son Prince William, 38.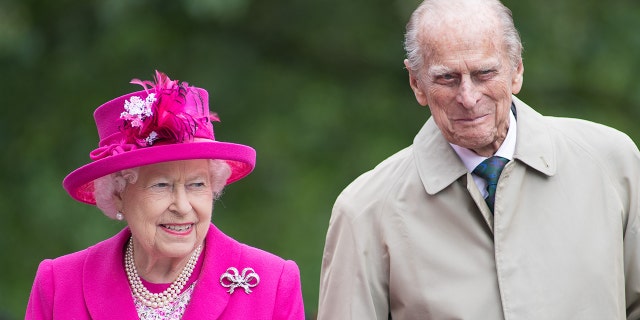 Queen Elizabeth II and Prince Philip, Duke of Edinburgh married in 1947, making their marriage the longest of any British sovereign. (Photo by Jeff Spicer/Getty Images)
According to the outlet, Buckingham Palace's culture secretary Oliver Dowden has announced details of a four-day "blockbuster weekend of celebrations" to celebrate Elizabeth's 70-year reign in 2022, squashing any gossip pertaining to abdication.
CLICK HERE TO GET THE FOX NEWS APP
"As a young woman she vowed to serve until her death and that is what she plans to do," a source told the outlet. "She would never abdicate — to her, it is a dirty word never to be uttered in her presence."
Elizabeth's biographer Sally Bedell Smith agreed with the statement.
"Her Majesty will most assuredly not step down when she turns 95 in April 2021, although with the Platinum Jubliee to follow in 2022, she'll likely want to celebrate her birthday with minimum fuss," she explained. "Unless she becomes incapacitated mentally or physically (which would trigger the Regency Act), she will remain queen until her death."