Flash Flood Watch impacting most of north Georgia
Tuesday morning forecast
Metro Atlanta has already seen a lot of rain and more is on the way. A Flash Flood Watch is in effect through this evening for northeast Georgia.
ATLANTA – The FOX 5 Storm Team is tracking the potential for more flooding this afternoon and evening as more showers and thunderstorms are expected to move through the state.
FOX 5 Storm Team Meteorologist Jeff Hill said as of Tuesday morning, over 5 inches of rain have fallen in certain areas of metro Atlanta.
A Flash Flood Watch is in place for Dade, Walker, Catoosa, Whitfield, Murray, Fannin, Gilmer, Union, Towns, Chattooga, Gordon, Pickens, Dawson, Lumpkin, White, Floyd, Bartow, Cherokee, Forsyth, Hall, Banks, Jackson, Madison, Polk, Paulding, Cobb, Gwinnett, Barrow, Clarke, Oconee, Oglethorpe, Haralson, Carroll, Douglas, Fulton, DeKalb, Rockdale, Walton, Newton, Morgan, Heard, Coweta, Fayette, Clayton, and Henry counties until 10 p.m..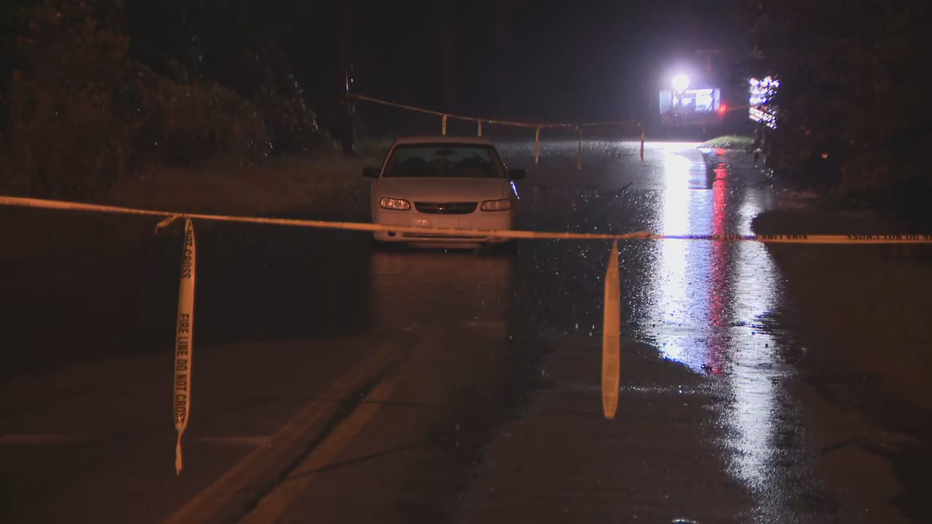 A car sits abandoned in the middle of a flooded Constitution Road SE in DeKalb County after heavy rain on July 19, 2021. 
(FOX 5)
Monday night, close to Intrenchment Creek along Constitution Road in southwest DeKalb County, rescue crews reportedly had to help someone from a car due to rising water. FOX 5 crews found the 1200 block of Constitution Road SE just east of the railroad tracks blocked off by caution tape and a car was sitting in the middle of a flooded road. Emergency crews were not on the scene at the time.
In Fulton County, saturated soil is likely the cause of a tree that fell in the 900 block of Mercury Drive NW, blocking off a portion of the neighborhood off of Fulton Industrial Blvd. The tree took down a power line causing a little over 100 homes to lose power overnight.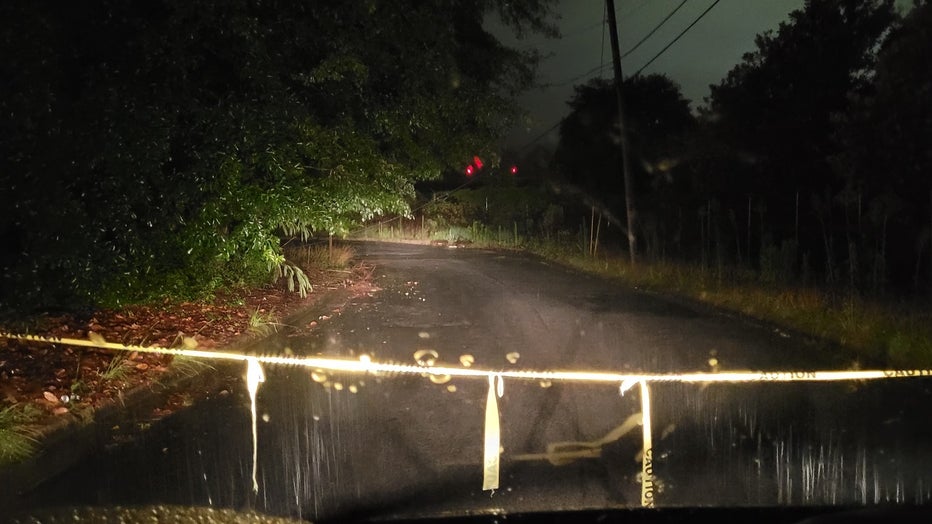 Caution tape block Mercury Drive NW in Fulton County after a tree took down power lines in the neighborhood on July 19, 2021.
Georgia Power reported some sporadic power outages overnight, but nothing widespread.
The good news is the rain chance will be decreasing as the week progresses and this weekend should look like a "normal" July weekend.